Swami Ahimsadhara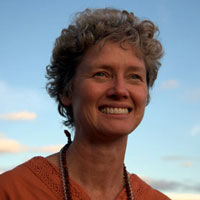 Hope: Yoga for Trauma Recovery
with Swami Ahimsadhara
Ahimsa will guide you through a unique approach to healing the scars left by traumatic experiences.
Hope: Yoga for Trauma Recovery offers a practical package of yoga postures, breathing and relaxation combined with methods for consciously managing the mind and emotions. This holistic approach uses a range of tools for restoring wellbeing to the body and mind, offering healthy solutions to ease post-trauma suffering.
Experience the healing power of a selection of yoga practices that are most suitable for the relief of post-trauma suffering.
Learn how these practices heal the nervous system and transform the body-mind.
See the award-winning documentary, Heroes of Peace, which tells the story of war veterans in Australia who used yoga for healing posttraumatic stress disorder.
Purchase Ahimsa's book Hope: How Yoga Heals the Scars of Trauma at Rocklyn Yoga Ashram
About Swami Ahimsadhara
BA Communications
Diploma of Satyananda Yoga Training
Accredited by AYS
Member of SYTA and Yoga Australia
Ahimsa has practised yoga since she was a teenager in 1975 and has been teaching since 2003. She is a highly regarded teacher and presenter in Australia and internationally. For many years she was manager of the Hobart Yoga & Meditation Centre, a busy yoga hub providing a wide range of classes, workshops and retreats. Ahimsa is the founder of Ganges Yoga and Life Beyond Trauma. She presently teaches in Hobart and travels widely offering retreats and workshops.
Author
Prior to teaching yoga Ahimsa worked in the media, including in publishing and with ABC TV. Her interest in writing led her to write articles and books on yoga, including for Australian Yoga Life, Yoga Magazine and elsewhere. During several years as a resident of Bihar School of Yoga in India, Ahimsa worked in the publishing division, editing an extensive range of books and contributing as an author under the direct supervision of her guru, Swami Niranjanananda. She continues to write about the benefits of yoga for spiritual living and for specialised applications.
Yoga for PTSD
For more than a decade Ahimsa has taught yoga to war veterans, refugees and others with post-traumatic stress disorder (PTSD), anxiety and depression. She has consulted to a Colombian study on yoga for PTSD and presents papers and workshops on the topic around the world including at the 2013 World Yoga Convention, India.
In 2014 Ahimsa produced an award-winning documentary, Heroes of Peace, about the experiences of veterans involved in the yoga program she teaches. Her new book, Hope: How Yoga Heals the Scars of Trauma offers holistic solutions to post-trauma suffering, showing how yoga heals the nervous system and gives skills for managing the mind and emotions.
In 2016 Ahimsa is conducting retreats and workshops on yoga for PTSD in Australia, the UK and Europe.
Touring and teaching
Ahimsa has instructed on yogic studies and yoga teacher training courses at the Satyananda Yoga Academy, Australia and Bihar School of Yoga, India. In 2013 she toured New Delhi as part of the all-India Yoga Yatra conducted by Bihar School of Yoga and has held seminars in Mumbai, Bangalore, Singapore and Colombia. Her teaching takes her to many parts of Australia and the world.
Ahimsa's life is inseparable from yoga. To Ahimsa, yoga is about creativity and positive relationships. It is about understanding one's self and others in order to live with balance and in harmony. Ahimsa's interpretation of yoga for creative living is based on depth of study, experience and a passion for peace. The meaning of 'ahimsadhara', her spiritual name, is 'to flow with non-violence,' and that is her aspiration.
Yoga Books by Ahimsa
Yoga Day by Day: A Guide to Holistic Practices for Healthy Living
Hope: How Yoga Heals the Scars of Trauma
Editing
Conversations on the Science of Yoga: Hatha Yoga volumes 1-8
Gheranda Samhita by Swami Niranjanananda Saraswati
Yogic Management of Cancer by Dr Swami Nirmalananda
Websites
South Hobart Yoga & Meditation - www.shyam.net.au