Dhal Recipe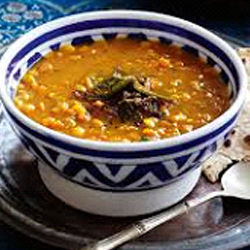 Ingredients
300gm red lentils
6 cups water (depending on desired thickness of dhal)
3 tsps ghee or oil
1/2 tsp cumin seeds
1/2 tsp tumeric powder
Optional ingredients; one, some, or all of the following may be added for variety.
3/4 tsp ginger finely chopped
1 small clove garlic finely chopped
1 bay leaf
1/4 tsp chilli powder
1 small tomato finely chopped.
Method
Cook lentils in water for approximately 25 minutes or until smooth.
Heat oil or ghee, add cumin seeds. Fry till golden brown and fragrance is released. Add bay leaf, garlic, or ginger,
if desired. Fry lightly and carefully.
Add tumeric and chilli powder (optional) sizzle on low heat for 1/2 minute stirring constantly, ensuring mixture does not burn.
Add 1 tomato (optional) and cook on medium heat for 5 minutes.
Add mixture to cooked lentils, salt to taste. Simmer for 5 minutes. Finally, stir in coriander before serving.
Enjoy!
Serves 4