July
Guru Poornima Initiates Retreat - Mandala of Rememberance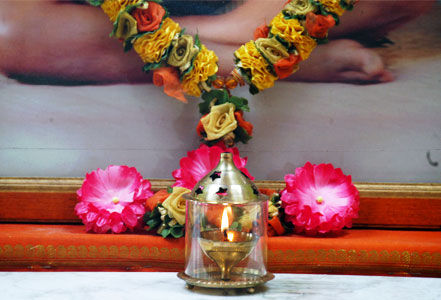 Mandala of Rememberance
28 Jun - 3 Jul $108 Book Here
or
Part of the Retreat $35 per night Book Here
Guru Poornima Day - by Dakshina (donation)
3 July
Guru Poornima is the time when disciples and devotees can align with the Guru Tattwa and strengthen their resolve to remove the veils of avidya, ignorance.
Guru Poornima is celebrated on the fullest and brightest full moon of the year. At this time if we create the right circumstances it is considered to be a moment of the year when the blessings of all gurus, traditions and masters shower grace, intuitive guidance, and blessings to support our sankalpa, sincerity and commitment as we enter into another year of spiritual endeavour.
The Guru Poornima Retreat will be celebrated with daily havan, personal sadhana time, mantra chanting, sadhana and ashram life and sangha – mandala of rememberance.
---
Discounted Personal Yoga Reset Retreat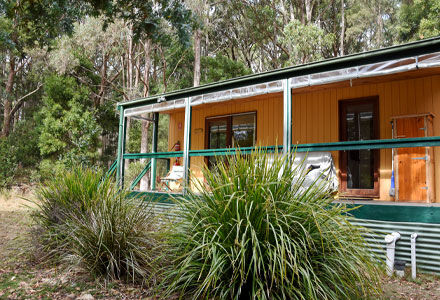 Minimum of 2 nights
Any days between
10 - 14 July $99 per night Book Here
Step out of your private ensuite unit into the beauty of the Wombat Forest to begin your slow walk: its magical.
Includes all food, standard accommodation and yoga classes as per the website Personal Retreat Daily Timetable
Spend a few days in the surroundings of the beautiful Wombat Forest, slow walks, nature spaces and yoga practices to restore and realign oneself.
Peace to disconnect - visitor in 2022
The location, environment, yoga instructions, food and peace were just what I needed to disconnect and completely unwind. The tranquil setting with wildlife and bird life were a treat to encounter, and the classes have left me feeling so grounded and connected, Thank you for a wonderful retreat. Hari Om.
---

07 - 09 Jul $350 Book Here
08 - 09 Jul $300 Book Here
Change and transformation begins once we become aware of the derailing and seesawing effect unconscious habit patterns have on our happiness and fulfillment in life.
A regular routine of 5 simple practical and regular yoga techniques can develop self-awareness infusing life with enhanced vitality and direction.
Inpired guest
Whenever my mind, body and soul needs to reset and recharge, I feel the call to Rocklyn.
Being surrounded by sweet-smelling gums and the songs of birdlife; morning meditation and yoga overlooking the stillness of the lake; nutritious vegetarian meals; and the warm hospitality of the residents make Rocklyn my spiritual home away from home.
I highly recommend a weekend retreat for clarity of mind and reconnection to self.
---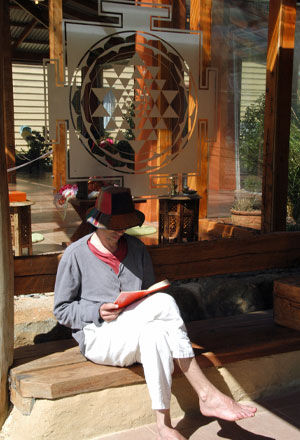 Thanks so much for the time at Rocklyn. I feel so calm and energised this week. Guest
Imagine having a few days away from the norm! with slow walks in the Wombat Forest
Imagine feeling rested and relaxed, having quality time to reflect in the quiet spaces of the Ashram environment without any obligation to do....and
imagine yoga practices that create deep relaxation, and give space within to declutter the mind from the things we worry about
---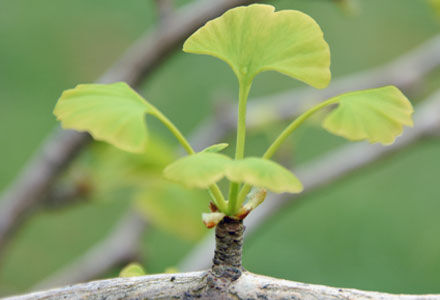 21 - 23 $350 Book Here
Enjoy a private ensuite room with the Wombat State Forest at your door step. A short silent retreat offers precious time and space, not always available in other forms of living, for quieter and deeper self-reflection and self-enquiry.
Being silent is an opportunity to be with yourself, be more focused, clear and to be still, to experience an enhanced connection with yourself and your surroundings.
The retreat includes:
yoga asanas & pranayama become the basis for stillness
review of the day - meditation
sitting meditation: Antar Mouna – attitude of a witness to cultivate equanimity and inner silence
Yoga Nidra – deep relaxation for body, mind & emotions
walking meditation using the senses to be present
encouraged to keep a personal diary (optional)
---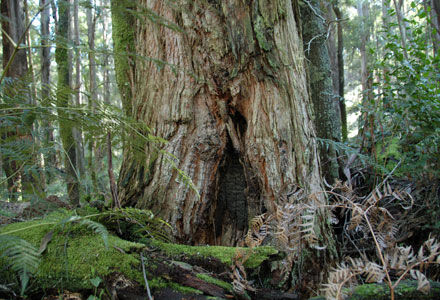 Winter Discounted Offer for July
Take a private secluded ensuite room with the Wombat Forest at your door step. Slow walks, yoga practices that restore and rebalance, organic food and plenty of time for self.
Visitor 2022
Thank you so much for my stay at the ashram and for the wonderful programme. The ashram is such a magical place, nestled in nature and away from the bustle of the city. It was a much-needed break from all the external stimulations and distractions, as well as a good reminder to get back to the practice. I left with a better sense of clarity and centredness and can breathe easier now.
---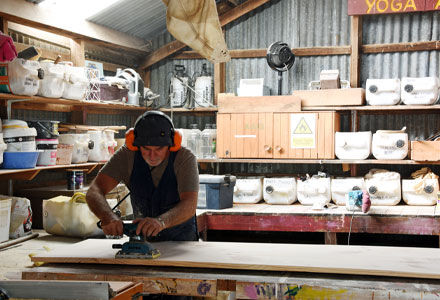 1 week $270 Book Here
1 week to 1 month
10% discount for Health Care Card Holders
No further discounts apply
Arrive Sun before 3pm – Depart Sun 2pm
Intakes all year
Daily Timetable
Retreat Information
Sustaining and cultivating a positive attitude towards life.
Included are twice daily group sessions discussing the subject of focus for the day, a review at the end of the day before meditation, and the experience of regular yoga classes.
During the Living Consciously program participants will discover, experience and analyse the methods by which yogic principles and practices can be applied in their daily lives.
What was beneficial about the retreat?
A great opportunity to rest my mind, reset patterns and to further commit to living consciously
Karma Yoga gave me the opportunity to observe and witness ones actions and reactions positively
Regular yoga practices both on and off the mat. Beautiful, peaceful and natural environment for yoga and lifestyle
Just perfect - timeout, yoga, lifestyle, reviving, refreshing and an inspiring experience in a beautiful ashram setting
Format - open, flexible, well balanced with practical & theory based sessions.
Creative approach to developing a yogic lifestyle
Karma Yoga - participation in the duties of the ashram life gave me a point of focus
---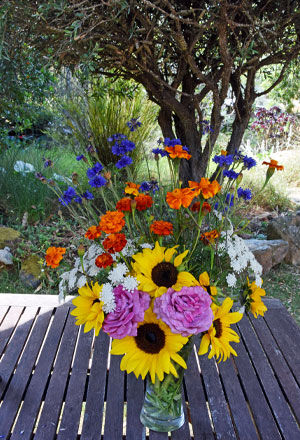 5 nights $600 Book Here
Mon 10.30am – Sat 2pm
7 nights $840 Book Here
Arrive before 3pm Sun 2pm – Sun 2pm
Intakes all year
A The Living Consciously Option 2 differs a little from the Living Consciously Option 1 program in that extra time is allocated after lunch to deepen relaxation and reclaim inner balance and direction during your personal retreat. Course material and group meetings are consistent with the Living Consciously concept of awareness.
What was beneficial about the retreat?
Yoga Nidra, the daily topic to witness and reflect on and the balance of all the yogas including Karma Yoga were highlights in my life changing experience.
Wonderful. It is one of the most peaceful settings I've had the privilege to be in. I am inspired.
Location, affordability & ethos
Group sessions. Complete toolkit to help re-assess your mind/lifestyle
During the Living Consciously Retreats program participants will discover, experience and analyse the methods by which yogic principles and practices can be applied in their daily lives.
---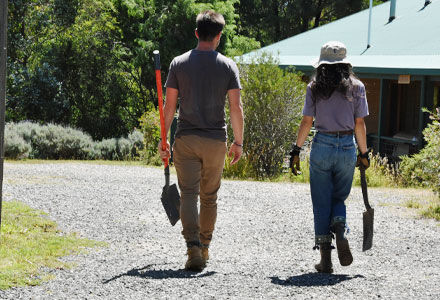 4 Day Retreat based on the principles of Living Consciously
Daily Timetable
Retreat Information
Fee $200
Arrive Sunday 3pm
Departure Thursday at 2.00pm
02 - 06 Jul Book Here
09 - 13 Jul Book Here
16 - 20 Jul Book Here
23 - 27 Jul Book Here
30 Jul - 03 Aug Book Here
---

A 4 day Yoga Retreat Mon - Thur
Fee $450
Daily Timetable
Retreat Information
Arrive 10.30am in time for Yoga Nidra - relaxation
This 4 day Yoga Retreat is part of a 1 month course of living consciously.
On completion of week 1, weeks 2, 3 & 4 can be undertaken at your own leisure
03 - 06 Jul Book Here
10 - 13 Jul Book Here
17 - 20 Jul Book Here
24 - 27 Jul Book Here
31 Jul - 03 Aug Book Here

The retreat supports personal time and space to re assess if we are focusing on what is important to us in life, and if we are creatively balancing our spiritual and worldly health and wellbeing effectively.
This special Yoga Retreat program includes: yoga postures, breathing techniques, yoga nidra – relaxation, meditation, focused action in the lifestyle, and twice daily group discussions on subjects of awareness from the text
eBook Yoga With Attitude
One is encouraged to make notes or keep a spiritual diary throughout the retreat.
At the end of your retreat take some time to re assess in the following way:
What insights have been gained throughout the retreat to support health & wellbeing effectively
How do you intend to apply and consolidate in a practical ongoing way the benefits and insights gained during your retreat
What challenges were met and how did you respond to them - responses and reactions
---

08 Jul $70 Book Here
10.30am - 8.30pm
Practices will include: a Satyananda Yoga class of asanas (postures), pranayama (breathing practices), meditation and Satyananda Yoga Nidra™ (a deep relaxation meditation practice), kirtan (the chanting of mantra with music) and the practice of Havan - fire & mantra.
Enjoy the numerous walking and bike riding tracks at the very edge of the forest.
After lunch there is time to walk around the ashram grounds, time to ask about the activities, programs conducted at the centre and which programs may be more appropriate for your specific needs.
​