"Step away for a few days to relax and enjoy a daily yoga program of self nurturing in a forest location"
The art of mindful living retreat is a life-changing, five-day, deep immersion into mindfulness. On this popular retreat, you will learn the practice of mindfulness and discover powerful strategies to live a more conscious and connected life when you go back home.
Just like we water the roots of a tree to keep it alive and vibrant, to sustain ourselves we need to go deep within and nurture our spiritual essence, our spiritual awareness. To create wealth and wellness, we need to cultivate inner peace. In this way we are able to live in peace and harmony with the world.
Yogic science achieves inner peace by utilising yogic tools in a systematic way.
More intuitive practices such as havans, fire ceremonies and kirtan, the chanting of mantras are also a normal part of the weekend.
This is an opportunity to use the strength of will to set your sankalpa for the year and to explore tools to keep it vibrant to sustain wellness.
---
Summer Yoga Retreat - Hatha Yoga, Meditation & Relaxation


Yoga, Practical Yoga Psychology & Lifestyle
14 - 21 Jan $790 Enrol
14 - 21 Jan $725 Enrol (early bird full paid by 01 Jan)
Includes the book Practical Yoga Psychology
The Summer Yoga Retreat week of Practical Yoga Psychology begins with the "definitions of yoga" referencing the text Practial Yoga Psychology by Dr. Rishi Vivekananda and will systematically unfold as a way of life enhancing ones understanding of the whole personality.
Summer Yoga Retreat Timetable
Summer Yoga Retreat Overview


Knowledge of practical yoga psychology from the wisdom traditions systematically harmonise the entire personality on a deep internal level and external expression reflected in everyday life by living a life inspired by a yogic culture.
The Summer Yoga Retreat is based on the practices & theory as described in the text Practical Yoga Psychology – Dr. Rishi Vivekananda to bring about a comprehensive understanding of the multi-faceted layers of the total being. With a deeper understanding of the self and self-observation of repeated patterns, automatic habits and reactions we can then decide how to rebuild or redirect our awareness in developing new pathways to connect and align with our inherent positive qualities.
By committing to a sankalpa (firm intention) and dedication to the practices of the world's wisdom traditions that offer valuable secrets for self-transformation, self-understanding, one is taken to another level of awareness and expression in life.
The daily practices, group discussions and applied theory combined with ashram life of regularity, simplicity, personal disciple and self-motivation leads to connection with our inherent positive qualities. Conscious application in everyday life is summarized as living a more harmonious, fulfilling existence less affected or defeated by demands, duties and distractions.
---
A 12 week new study course offered at Rocklyn Ashram only

Module 1: Breath & Energy
Clarity and vitality from the Hatha Yoga tradition
19 – 28 Jan Fees $1750
9 day live in residential at Rocklyn Ashram
Supported home practice and theory
29 Jan - 20 Apr
Concluding residential weekend at Rocklyn Ashram
20 - 22 Apr
Fulltime immersion option
Includes additional twelve weeks living at Rocklyn Ashram
19 Jan - 22 Apr
Fees $1750 + $1008
Dimensions Of Yoga Series courses are a new series that presents riches from the Satyananda system of yoga in a focused in-depth format which will provide accessible helpful insights to all yoga practitioners.
Yoga teachers and previous yogic studies students and graduates will gain great benefit from this fresh approach.
Fuelled by each participant's own intention and commitment, grounded in a living tradition, these courses support a personal journey towards yoga as a way of life, helping peel away barriers to deeper experiences in yoga.

The breath and energy module 1 is suitable for both new and experienced practitioners. It presents core practices and concepts from authentic classic Hatha Yoga that will enhance the experience of yoga and help build a dynamic and systematic sadhana (regular practice).......Dimensions Of Yoga Series - read more
How to Break the Worry Habit
19 - 21 Jan $295 Enrol
20 - 21 Jan $225 Enrol
19 - 21 Jan $531 Satya Enrol(10% discount for 2)
Worry is an unhealthy mental and emotional habit pattern that we have let unconsciously creep into our lives. It is a habit we have acquired, disconnecting us from our natural state of being and awareness of the here and now.


Yoga proposes that habitual patterns can be altered through the practices of:
Deep rhythmic breathing
Yoga Nidra – consciously turning off the stress response and eliciting the relaxation response
Yoga postures & Meditation
Sankalpa – personal intention
Living more consciously
Attention to what nurtures and refreshes us
Renewed awareness
Emptying the mind daily and pausing from the relentless busy-ness we find ourselves in
Cultivating healthy sleep patterns
Understanding how external overload creates worry and drains our energy for clear thinking and better decision making
---

Renewed Awareness can Remake and Refresh You
25 - 28 Jan $365 Enrol
26 - 28 Jan $300 Enrol
25 - 28 Jan $657 (10% discount for 2) Enrol
"As you think, so shall you be."
Flush out old, tired worn-out thoughts and emotions and fill your mind with refreshed new creative thoughts, actions and responses, with Yoga Nidra & pranayama. Learn to turn off the stress response button and elicit the relaxation response.
By utilising these simple practices, develop deep peace by gradually training the mind to release tensions that may be held in the body, the muscles and breath. Release impressions from the past and anxieties about the future. These tools will assist in developing a quieter mind which will gradually lead to inner calmness and a clearer outer perception of oneself.
Through these practices you can:
Manage emotions & expectations with balance
Reduce stress & improve health & wellness
Increase relaxation by releasing physical, mental and emotional tensions
Develop equanimity by balancing the nervous system
Develop awareness and presence of mind
Strengthen your resolve and develop your willpower
Self care & nurturing yourself
---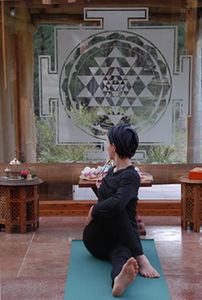 1 week $250 Enrol
1 week to 1 month
15% discount for Health Care Card Holders
No further discounts apply
Sun 2pm – Sun 2pm
Intakes all year
Course Overview
Daily Timetable
This retreat is for those who wish to sustain and cultivate a positive attitude towards life.
Included are twice daily group sessions discussing the subject of focus for the day, a review at the end of the day before meditation, and the experience of regular yoga classes.

During the Living Consciously program participants will discover, experience and analyse the methods by which yogic principles and practices can be applied in their daily lives.
What was beneficial about the retreat?
"A great opportunity to rest my mind, reset patterns and to further commit to living consciously"
"Karma Yoga gave me the opportunity to observe and witness ones actions and reactions positively"
"Regular yoga practices both on and off the mat. Beautiful, peaceful and natural environment for yoga and lifestyle"
"Just perfect - timeout, yoga, lifestyle, reviving, refreshing and an inspiring experience in a beautiful ashram setting"
"Format - open, flexible, well balanced with practical & theory based sessions. Creative approach to developing a yogic lifestyle"​
"Karma Yoga - participation in the duties of the ashram life gave me a point of focus"
---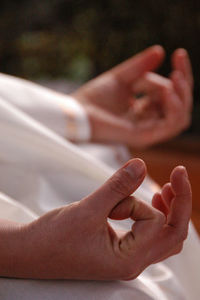 5 nights $495 Enrol
Mon 10.30am – Sat 2pm
7 nights $595 Enrol
Sun 2pm – Sun 2pm
Intakes all year
Daily Timetable
Course Overview

A Yoga Mindful Lifestyle Retreat differs a little from the Living Consciously program in that extra time is allocated after lunch to deepen relaxation and reclaim inner balance and direction during your personal retreat. Course material and group meetings are consistent with the Living Consciously concept of awareness.
What was beneficial about the retreat?
Yoga Nidra, the daily topic to witness and reflect on and the balance of all the yogas including Karma Yoga were highlights in my life changing experience.
Wonderful. It is one of the most peaceful settings I've had the privilege to be in. I am inspired.
Location, affordability & ethos
Group sessions. Complete toolkit to help re-assess your mind/lifestyle
During A Yoga Mindful Lifestyle Retreats program participants will discover, experience and analyse the methods by which yogic principles and practices can be applied in their daily lives.
---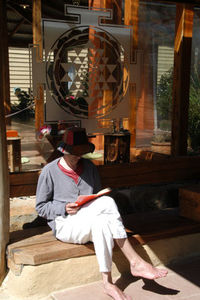 A 4 day Yoga Retreat
Fee $400
01 - 04 Jan Enrol
08 - 11 Jan Enrol
15 - 18 Jan Enrol
22 - 25 Jan Enrol
29 Jan - 01 Feb Enrol
Arrive 10.30am in time for Yoga Nidra - relaxation
This 4 day Yoga Retreat is part of a 1 month course of living consciously.
On completion of week 1, weeks 2, 3 & 4 can be undertaken at your own leisure.
The retreat supports personal time and space to re assess if we are focusing on what is important to us in life, and if we are creatively balancing our spiritual and worldly health and wellbeing effectively.
This special Yoga Retreat program includes: yoga postures, breathing techniques, yoga nidra – relaxation, meditation, focused action in the lifestyle, and twice daily group discussions on subjects of awareness from the text
eBook Yoga With Attitude
One is encouraged to make notes or keep a spiritual diary throughout the retreat. At the end of your retreat take some time to re assess in the following way:
What insights have been gained throughout the retreat to support health & wellbeing effectively
How do you intend to apply and consolidate in a practical ongoing way the benefits and insights gained during your retreat
What challenges were met and how did you respond to them - responses and reactions
---

Sat 06 Jan $70 Enrol
Sat 27 Jan $70 Enrol
10.30am - 8.30pm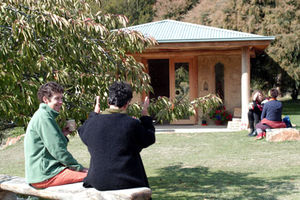 14 Jan (No Fee for the Open Day program)
"It's an excellent place for relaxation and to spend a day here is worthwhile" - from Barbara