October
Online Shop
Rocklyn Ashram Gallery
"Step out of the city for a few days to relax and enjoy a daily yoga program in nature"
If a weekend retreat is not possible a Personal Retreat time out can be taken at any time for as many days as required.
A Gift Voucher is a wonderful gift for your yoga friend or friend.
Arrival for Weekend Retreats
Fri 2pm or before 5pm - Sun 2pm
Sat 9am - Sun 2pm
Day Option Sat 9am to 9pm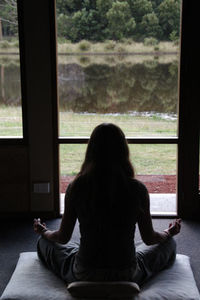 14 - 16 Oct $285 Enrol
15 - 16 Oct $215 Enrol
Meditation is at the heart of all that we do & are. Meditation establishes a connection to the inner awareness or source so we can be more receptive to the transformative potential & experience of being established in self-awareness to the here and now.
On this weekend the meditation practice of Antar Mouna is the focus for cultivating the witness qualities of discrimination (viveka) & disidentification/responses/reactions (vairagya) - the crest jewels for meditation.
By a regular practice of meditation with the attitude of a witness to the constantly changing circumstances in life we move beyond the personal & limiting habits by ceasing to identify with the dialogues, repetitive movements & limitations of the mind.
---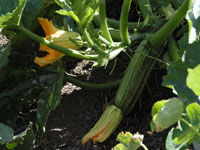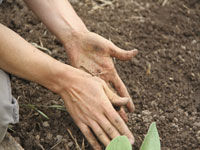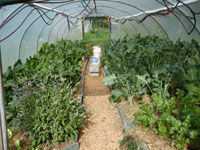 14 - 16 Oct Enrol No Fee (full participation)
15 - 16 Oct Enrol No Fee (full participation)
Please arrive before 5pm on the 14th or by 8.45am on the 15th and depart after lunch clean up - 1.30 on the 16th.
Heart in the Hands & Hands in the Moment Weekend - learning to be present: dynamic participation in the lifestyle of the Ashram as Karma Yoga – the yoga of mindful service and sharing of skills. Participation in either the organic veggie garden or other interesting environmental projects is an exchange for all yoga classes, yummy garden produce food and standard accommodation.
---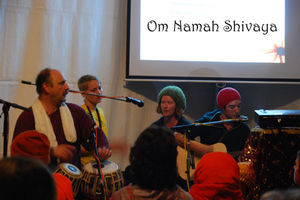 14 - 16 Oct $240 Enrol
15 - 16 Oct $150 Enrol
Includes Saturday Yoga Posture Class
Mantras are simple words of praise that touch the heart and allow us to melt into the soul of ourselves. When mantras are chanted with the attention attuned to the feeling body, with eyes closed, naturally we disconnect from the outer world, and rest deeply in the subtle vibrations of mantra for healing and peace.
Satsang translates as uplifting group discussions from the wisdom teachings of yoga on a particular topic of interest.
---
Yoga as a Lifestyle - start where you are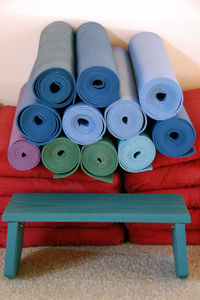 17 - 23 Oct $675 Enrol
If you realize you are at a place and space in yourself that is not providing self-understanding, peace and joy and the questions of where to next have arisen then this retreat would be helpful in creating new directions and clarity.
The aim of this retreat is to put your personal aspirations and inspiration in the right context, the right order of choice and experience how it feels to live consciously and fully leading to self transformation and evolution of individual consciousness.
What to Expect: Twice daily group meetings with daily subjects of awareness are discussed and constitute the basis of fully engaging and living the ashram life with awareness, understanding and intention to gain skills for living a meaningful life inspired by yogic awareness.
Along with the full yoga program of yoga postures, breathing techniques, meditation, yoga nidra - relaxation is the yoga lifestyle component which includes 2 1/2hrs of full time Karma Yoga - being present whilst fully engaging in the activities (work) with the ashram community in the daily ashram routine. The activities include, organic veggie garden, kitchen, maintenance, house keeping, and many other varied and interesting sustainable lifestyle projects.
---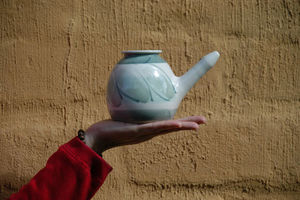 21 - 23 Oct $315 Enrol
Weekend to be attended in full
Hatha Yoga Cleansing Retreat
During the Cleansing Weekend Retreat, the practice of laghoo shankhaprakshalana or 'laghoo' will be experienced under the care and guidance of qualified teachers.
Classically, hatha yoga comprises six types of cleansing practices known collectively as shatkarmas. Shatkarma practices not only remove toxins and optimize health - they also awaken energy within the body, mind and psyche. Laghoo is one such practice.
This excellent yet simple intestinal cleanse washes and flushes out the digestive system. Encourages the intestines to function at their best, promoting healthy elimination of toxins, both of which are essential for physical health, vitality and mental wellbeing.
The other Cleansing Practices taught on the weekend are:
Neti – nasal cleaning
Kungal – stomach wash
Tratak – candle gazing meditation for concentration and mental clarity
Bhamari & Nadi Shodhana – Pranayama – breathing techniques for purification
Yoga Nidra – deep relaxation for body/mind/emotions
---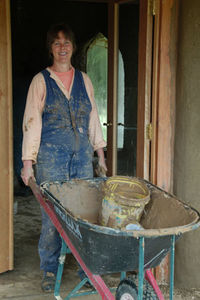 1 week $250 Enrol
1 week to 1 month
15% discount for Health Care Card Holders
No further discounts apply
Sun 2pm – Sun 2pm
Intakes all year
Included are twice daily group sessions discussing the subject of focus for the day, a review at the end of the day before meditation, and the experience of regular yoga classes.
During the Living Consciously program participants will discover, experience and analyse the methods by which yogic principles and practices can be applied in their daily lives.
"A great opportunity to rest my mind, reset patterns and to further commit to living consciously"
"Karma Yoga gave me the opportunity to observe and witness ones actions and reactions positively"
"Regular yoga practices both on and off the mat. Beautiful, peaceful and natural environment for yoga and lifestyle"
"Just perfect - timeout, yoga, lifestyle, reviving, refreshing and an inspiring experience in a beautiful ashram setting"
"Format - open, flexible, well balanced with practical & theory based sessions. Creative approach to developing a yogic lifestyle"​
"Karma Yoga - participation in the duties of the ashram life gave me a point of focus"
---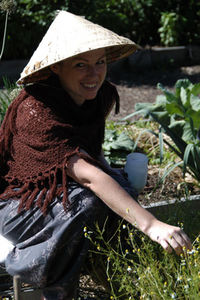 5 nights $495 Enrol
Mon 10.30am – Sat 2pm
7 nights $595 Enrol
Sun 2pm – Sun 2pm
Intakes all year
A Mindful Lifestyle Retreat differs a little from the Living Consciously program in that extra time is allocated after lunch to deepen relaxation and reclaim inner balance and direction during your personal retreat. Course material and group meetings are consistent with the Living Consciously concept of mindfulness.

What was beneficial about the retreat?
Yoga Nidra, the daily topic to witness and reflect on and the balance of all the yogas including Karma Yoga were highlights in my life changing experience.
Wonderful. It is one of the most peaceful settings I've had the privilege to be in. I am inspired.
Location, affordability & ethos
Complete toolkit to help re-assess your mind/lifestyle
During the Mindfulness Lifestyle Retreats program participants will discover, experience and analyse the methods by which yogic principles and practices can be applied in their daily lives.
---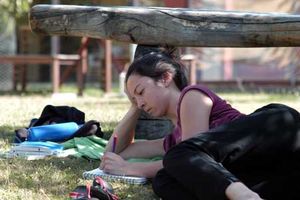 A 4 day Yoga Retreat
03 - 06 October $400 Enrol
10 - 13 October $400 Enrol
17 - 20 October $400 Enrol
2 - 27 October $400 Enrol
Arrive 10.30am in time for Yoga Nidra - relaxation
This 4 day Yoga Retreat is part of a 1 month course of living consciously.
On completion of week 1, weeks 2, 3 & 4 can be undertaken at your own leisure.
The retreat supports personal time and space to re assess if we are focusing on what is important to us in life, and if we are creatively balancing our spiritual and worldly health and wellbeing effectively.
This special Yoga Retreat program includes: yoga postures, breathing techniques, yoga nidra – relaxation, meditation, focused action in the lifestyle, and twice daily group discussions on subjects of awareness from the text
eBook Yoga With Attitude
One is encouraged to make notes or keep a spiritual diary throughout the retreat. At the end of your retreat take some time to re assess in the following way:
What insights have been gained throughout the retreat to support health & wellbeing effectively.
How do you intend to apply and consolidate in a practical ongoing way the benefits and insights gained during your retreat
What challenges were met and how did you respond to them - responses and reactions
---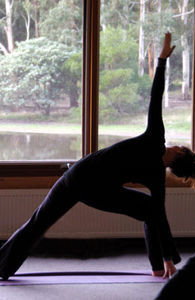 Sat 15 Oct $70 Enrol
10.30am - 8.30pm