Soul Sangeet - Easter Sunday Sound Healing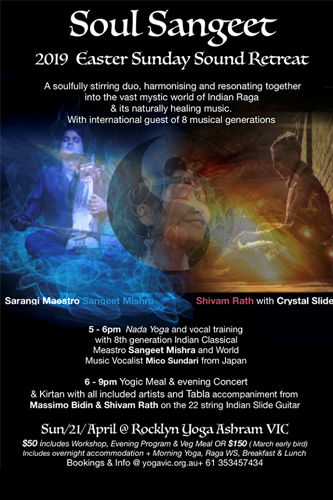 21 Apr $50 Enrol Evening Program
Arrive between 3.30 - 4.30pm
5 - 6pm Introduction to Nada Yoga & Indian classical Workshop with vocal training by 8th generation Sarangil Maestro Sangeet Mishra and World Music Vocalist Mico Sundari from Japan
6.00pm Vegetarian Dinner
7.30 - 9.00pm Soul Sangeet Evening Concert & Kirtan
or
21 - 22 Apr $150 Enrol Early Bird Fee 31 March
21 - 22 Apr $180 Enrol
(Overnight accommodation, Yoga class & dawn Raga, 7:30am breakfast, 8.00 - 9.00am Karma Yoga, 10.00am Group Music & Raga Session with Sangeet Mishra & Shivam Rath, 11.30 Nada Nidra meditation & lunch)
Soul Sangeet is a new term and concept inspired by Indian Classical music but presented for the western world. Shivam Rath has been developing this world music genre and musical culture with a particular passion for Indian classical, for its acoustic subtleties, its deep vedic philosophy and its nearness to nature.
Sangeet means sound or music in Sanksrit and follows a deep belief of spirit in sound; hence Soul Sangeet. Since diving into the world music sphere Shivam now blends a unique 22 string slide guitar/sitar gliding with a crystal ball. This fusion instrument symbolises a cross culture of harmony in sound and music; inspiring Shivam to create these unique events and facilitate this process on a wider scale and reach a wider audience. Each event incorporates different musicians, instruments, vocalists and international guests bridging the gap between world and local music; establishing a wider world music culture.
Joining back on the tour for the third time together is the Classical Maestro Sangeet Mishra on the Sarangi; an ancient Indian Violin acclaimed to be 5000 years old. Sangeet Mishra himself while not as old still hails from 8 generations of Sarangi players, coming from Banaras or Varanassi India. Those who know of the Indian Classical world will also understand how rare an instrument this is because of its difficulty to play and master, meaning there are literally only a handful of accomplished classical Sarangi players in the world. He has toured internationally most countries over and the Australian shores almost 20 separate times as a professional artist.
Joining them both is world music and mantra specialist Mico Sundari from japan, who's naturally gifted voice and deep devotion to the art of healing and transformational music has gained her recognition in various styles and fields of musical genres. Her intuitive workshops and voice seminars also have a particular impact in awakening peoples own ability to sing freely and wholeheartedly.
Accompanying on Tabla is Massimo Bidin originally from Italy, who has been living in Melbourne for the last decade developing as an upcoming tabla player and world music percussionists in Australia. He is competent in Indian Classical and semi classical structures, devotional bhajans, mantra music as well as modern contemporary fusions and has been learning for the last 10 years from various renowned Tabla Guru's.
Shivam Rath while not quite 8 generations is a second generation Aussie Indian Musician, following his fathers footsteps in both the world of Yoga and Indian classical music and since seriously taking up the path is sliding up to be Australia's leading Slide Guitarist. Born into a musical family he has been combining his knowledge and path of meditation into the classically trained field of Music, Mantra and raga. He is also writing and producing his own music and compositions, with many C.Ds bridging, reviving and blending the ancient arts and music into our modern world.