Overview of the Bhagavad Gita Retreat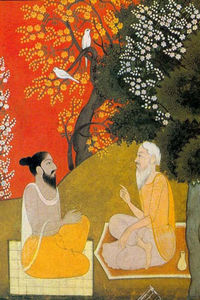 Bhagavad Gita is concerned with developing attitudes to life situations which give us immunity from ups and downs that may sometimes engulf us. This course, supported and integrated into the ashram lifestyle, will cultivate attitudes from Bhagavad Gita, giving strategies to systematically uplift thoughts, emotions and actions.
Fees include: food, standard accommodation, course yoga classes, twice daily discussion sessions & course material - books for daily study and integration in the ashram life.
Daily Timetable
Yoga @ the Ashram
Private and twin share accommodation has additional costs
Practical Details: What to bring, Fees, Directions etc
Mobile Free Zones: all residential, eating & sitting areas
What to Expect
During the 1 month the teachings and discussions will deeply focus on 2 chapters from Bhagavad Gita.
Chapter 3 contains the wisdom of Karma Yoga to develop skills and attributes of equanimity as one engages in action.

Chapter 12 contains the wisdom of Yoga of Devotion to develop the understanding and balance of the emotional and devotional nature as one engages in the many facets of life.

These 2 chapters will be experienced through ashram life, study and service. Each day will include a morning yoga class, twice daily group discussions, evening programs, yoga nidra, chanting, meditation and applying the teachings in the karma yoga projects (4.5 to 5 hrs daily: organic veggie garden, kitchen, maintenance, house keeping, and many other varied and interesting lifestyle projects) within the ashram. The evening review sessions include discussions on reflections of the day, linked back to the morning discussions.

All classes are expected to be attended as part of the ashram lifestyle to maintain harmony, health on all levels of the personality and to gain skills for living an ongoing life inspired by a yogic culture.
Tools for Life Comments
"The dynamic daily ashram lifestyle based on participation – karma yoga provides a platform for self-observation and the opportunity for self-transformation by developing noble thoughts, impressions and noble actions."
"The Bhagavad Gita is a complete toolkit to help reassess the mind and lifestyle."