April
"Step out of the city for a few days to relax and enjoy a daily yoga program in nature"
If a weekend retreat is not possible a Personal Retreat time out can be taken at any time for as many days as required.
A Gift Voucher is a wonderful gift for your yoga friend or friend.
Arrival & Departure for Weekend Retreats
Fri between 2pm & 5pm to Sun 2pm
Sat 8.45am to Sun 2pm
Day Options Sat 8.45am to 9pm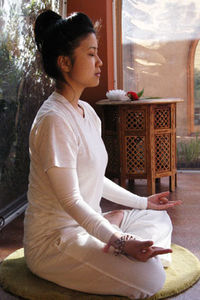 Mind & Mind Management
07 - 09 Apr $290 Enrol
08 - 09 Apr $220 Enrol
07 - 09 Apr $464 Satya Enrol (20% dis - double enrolment)
When faced with a busy mind and frustrations that seem to continually persist we must assess where we are looking to quieten the mind and return to a more harmonious, comfortable and quieter space within.
What we sometimes fail to realize, is that the solution is within us.
Topics of discussion & practice
developing stillness in a comfortable sitting position
concepts of the mind & mind management
breath and its subtle effects
​the benefits of a regular practice
The meditation practice of physical stillness, observing the breath and observing the mental content is called Antar Mouna – "cultivating inner stillness and reaching a quiet harmonious and comfortable internal space of restful awareness". ​
It is proven and we believe that a regular practice of just 10 minutes per day of witnessing the events of the day with equanimity – balance of mind re-establishes and enhances positive thinking and mental/emotional clarity.
---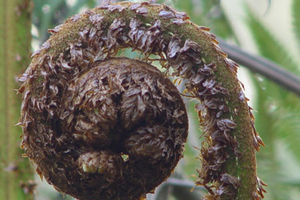 Inner Centering
14 - 17 Apr $360 Enrol
15 - 17 Apr $290 Enrol
14 - 17 Apr $576 Satya Enrol (20% dis - double enrolment)
Take time to renew at Easter. Allow the mind to turn inwards and relax into the centre of your being through meditation. In our day to day life we are constantly externalised, thinking, doing, and acting. There is constant movement and struggle.
Deep inside, on the other hand, there is a silent centre, where we feel a connection to a deeper presence. This is where we feel truly our self. Step by step, we can let go of the surface layers, move closer to our core and relax deeply into our own self.
Once we experience this connection with our centre, we emerge refreshed and rejuvenated. Dealing with the surface layers, the everyday life, then becomes a lighter experience through our identification with the stillness within. We learn to flow rather than grapple with the ever changing phenomena of life.
---

A systematic approach to utilizing the witnessing aspect of the consciousness to respond from balance & inner harmony
21 - 23 Apr $290 Enrol
22 - 23 Apr $220 Enrol
21 - 23 Apr $232 Satya Enrol (20% dis - double enrolment)
This weekend will present a number of simple and accessible yoga practices and meditation techniques for the beginner and the practitioner.

Five Steps: for rebuilding the inherent inner harmony responses
personal discipline to maintain a regular practice & balanced lifestyle
truthful and honest self awareness/observation of thoughts & emotions
consciously transforming negative to positive
checking the responses to action & reaction & creating new patterns/pathways
understanding the senses & the mind by reviewing the events of the day
A regular practice of meditation fosters a better and more harmonious way of living with one's self and others. Meditation reduces the stress responses, improves the quality of discrimination and non-attachment, and enables access to the witnessing aspect of the mind.
By making needed time "off-grid", and directing the senses inwardly, as a witness, without masks or reservations allows one to be more responsive to the present. Present awareness significantly supports and increases the relaxation awareness responses and decreases the escalation of stress responses and confusion.
---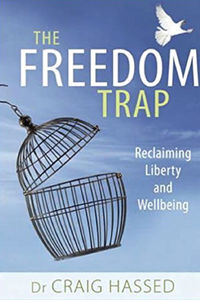 28 - 30 Apr $300 Enrol
29 - 30 Apr $230 Enrol
Day Only
29 Apr $150 Enrol (8.45am - 9.00pm)
Attend this weekend and gain CPD points
More About Associate Professor Dr. Craig Hassed

The Freedom Trap - Reclaiming Liberty and Wellbeing

Modern and popular notions of freedom very much revolve around a total removal of limits from individual desires, whereas for the wisdom traditions freedom depends upon discipline, setting limits, the rule of reason rather than desire, and obeying natural laws.
Which view is correct?
What do various wisdom traditions have to say about this?
Can we fall unwittingly into a trap set by ourselves if we do not understand what true freedom is?
Does that result in us finding the opposite of what we seek?
How do we cultivate greater freedom in our lives?
These and related questions will be explored from philosophical, practical and scientific perspectives.
---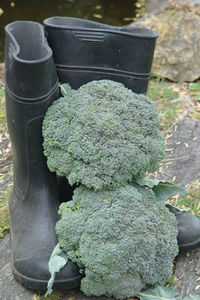 1 week $250 Enrol
1 week to 1 month
15% discount for Health Care Card Holders
No further discounts apply
Sun 2pm – Sun 2pm
Intakes all year
Course Overview
Yoga @ the Ashram
Daily Timetable
This retreat is for those who wish to sustain and cultivate a positive attitude towards life.


Included are twice daily group sessions discussing the subject of focus for the day, a review at the end of the day before meditation, and the experience of regular yoga classes.
During the Living Consciously program participants will discover, experience and analyse the methods by which yogic principles and practices can be applied in their daily lives.
What was beneficial about the retreat?
"A great opportunity to rest my mind, reset patterns and to further commit to living consciously"
"Karma Yoga gave me the opportunity to observe and witness ones actions and reactions positively"
"Regular yoga practices both on and off the mat. Beautiful, peaceful and natural environment for yoga and lifestyle"
"Just perfect - timeout, yoga, lifestyle, reviving, refreshing and an inspiring experience in a beautiful ashram setting"
"Format - open, flexible, well balanced with practical & theory based sessions. Creative approach to developing a yogic lifestyle"​
"Karma Yoga - participation in the duties of the ashram life gave me a point of focus"
---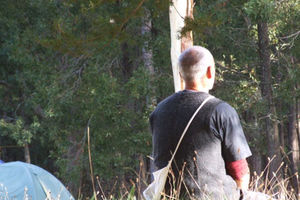 We are experiencing an error with our enrolment form not showing arrival or departures dates.
Please note your dates in the comment box. Hope to have it fixed very soon.
5 nights $495 Enrol
Mon 10.30am – Sat 2pm
7 nights $595 Enrol
Sun 2pm – Sun 2pm
Intakes all year
Daily Timetable
Yoga @ the Ashram
Course Overview
A Mindful Lifestyle Retreat differs a little from the Living Consciously program in that extra time is allocated after lunch to deepen relaxation and reclaim inner balance and direction during your personal retreat. Course material and group meetings are consistent with the Living Consciously concept of mindfulness.
What was beneficial about the retreat?
Yoga Nidra, the daily topic to witness and reflect on and the balance of all the yogas including Karma Yoga were highlights in my life changing experience.
Wonderful. It is one of the most peaceful settings I've had the privilege to be in. I am inspired.
Location, affordability & ethos
Group sessions. Complete toolkit to help re-assess your mind/lifestyle
During the Mindfulness Lifestyle Retreats program participants will discover, experience and analyse the methods by which yogic principles and practices can be applied in their daily lives.
---

A 4 day Yoga Retreat
Fee $400
03 - 06 Apr Enrol
10 - 13 Apr Enrol
24 - 27 Apr Enrol
Arrive 10.30am in time for Yoga Nidra - relaxation
This 4 day Yoga Retreat is part of a 1 month course of living consciously.
On completion of week 1, weeks 2, 3 & 4 can be undertaken at your own leisure.

The retreat supports personal time and space to re assess if we are focusing on what is important to us in life, and if we are creatively balancing our spiritual and worldly health and wellbeing effectively.
This special Yoga Retreat program includes: yoga postures, breathing techniques, yoga nidra – relaxation, meditation, focused action in the lifestyle, and twice daily group discussions on subjects of awareness from the text
eBook Yoga With Attitude
One is encouraged to make notes or keep a spiritual diary throughout the retreat. At the end of your retreat take some time to re assess in the following way:
What insights have been gained throughout the retreat to support health & wellbeing effectively
How do you intend to apply and consolidate in a practical ongoing way the benefits and insights gained during your retreat
What challenges were met and how did you respond to them - responses and reactions
---
Sat 15 April $70 Enrol
&
Sat 29 April $70 Enrol
10.30am - 8.30pm
17 April (No Fee)
After lunch there is a guided walk around the ashram grounds, time to ask about the activities and programs conducted at the centre and which programs may be more appropriate for your specific needs.