Swami Muktimurti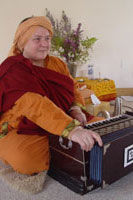 The Benefits & Experience of Kirtan
Kirtan can be fast and exciting, or slow and meditative, or anything in between. This doesn't matter, because the purpose of kirtan is one of upliftment for every person present, whether or not they have any musical skill, whether or not they like to dance or to sit still. It is not a performance: instead the whole group builds an energy together as a form of sadhana (practice), whereby the result is very much greater than the sum of the individual parts and goes beyond the individual identification.


About Swami Muktimurti
Swami Muktimurti has been living in the Satyananda Yoga ashrams in both Australia and India since the 1970's and is well known for her singing.
She has pursued a deep interest in music for the past 30 years, incorporating her background in devotional singing (kirtan, bhajan and stotram), mantra, classical North Indian music, and her love of music and chanting in general into an experiential perspective on the practices of Nada Yoga.
During this time she has also been active in finding ways to bring these practices into the broader community and thus encourage others to discover and develop their own deeper connection with the music of the spirit.