Sadhana Retreat.....more info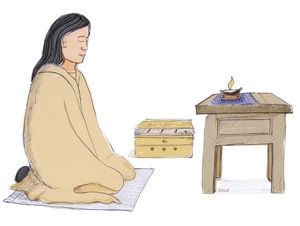 at Rocklyn Yoga Ashram Sep 22 - 27
The goals and processes of sadhana
The goals and the processes of sadhana emerge dynamically in an ongoing and emerging relationship with one another. When seeking to establish or deepen one's experience of sadhana it is helpful to keep an eye on both, the process of clearing away the obstacles, and the goal itself.
In an innovative approach, Inspired by the evolving wisdom of our tradition, this course places understandings of yoga from the Bhagavad Gita alongside Patanjali's Yoga Sutras through the themes of Pratyahara (sense withdrawal) and Sthita Prajna (steady wisdom).
Practical inspiration
This will be a practical week of sadhana with inspiring concepts designed to motivate and challenge the journey into sadhana. Rishi Nityabodhananda and Swami Vimalratna will lead presentations and discussions based on Bhagavad Gita and Patanjali's Yoga Sutras, aiming to encourage practitioners to develop their own understanding and inspiration. A number of senior teachers including Rishi Yoga Diwali and Swami Atmamuktananda, will contribute to the program.
About the themes
Pratyahara is more than the withdrawal of the mind from sensory distractions. It is a holistic system with practical techniques for harmonising experience and developing a quiet mind. It is the process of clearing away barriers to inner experience.
Sthita Prajna, steady wisdom, is the characteristic of someone who seeks to dwell with an awareness of inner experience. Developing identification with this is a powerful means for transforming the way we perceive ourselves and experience life.
The journey within, through the processes of Pratyahara, clears the way for inner experience. The light of inner illumination, through the example of Stitha Prajna, inspires and guides us. Together, the two processes support one another, transforming both inner life and everyday experience.
Practical details
$208 including full program, shared accommodation and meals.
This annual program has brought deeper aspects of yoga to experienced practitioners for the last two years, generously subsidised by the Yoga Assoc of Victoria to encourage sadhana and support the development of sangha in the tradition.
For those able to stay longer, this program immediately precedes Navaratri at Rocklyn Ashram.