9 Day Meditation Retreat

05 - 13 Apr $1100 Book Here Early Bird 31 Mar

05 - 13 Apr $1350 Book Here
Overview
This 9 day meditation retreat in the ashram setting with
international meditation teacher, Swami Anandakumar, provides an
opportunity to travel to your own centre, to find the stillness within and
discover that your own inner nature is unchanging.
Explore tools that will help you to truly find peace, happiness,
clarity and perspective on the whole of life.


This retreat offers a unique chance for you to go into a space of silence to
begin or deepen your meditation practice depending on your previous experience.
Held with long periods of silence over 9 days, it will help you to let your mind rest and enjoy a different,
deeper kind of reflection and relaxation that will leave you wiser, and more ready for the challenges of life.
Renowned meditation teacher, Swami Anandakumar, takes a fresh and direct approach to meditation which
is effective for both the beginner and advanced practitioner. The combination of ancient yoga techniques with well-timed,
intuitive guidance, aimed at the modern mind, helps each person to find their way to deeper levels of awareness
through access to their own intuitive experience.

Hatha Yoga - asana & pranayama
Yoga Nidra - deep relaxation
Karma Yoga - awareness in action
Kirtan - mantra chanting with music
Havan (fire ceremony) & chanting of mantras for peace, all beings and self healing

Periods of silence to facilitate reflection to actively encourage a self-explorative approach to meditation and
provide a gentle way to balance the mind and realign the awareness toward your own inner nature.
With more than 35 years experience Sw. Anandakumar helps to bring harmony to meditation practice,
outlining a working 'road map' in order to harmonise any conflict with the body-mind and find your way forward.
This allows your meditation practice to come from a place of inspiration rather than a feeling of obligation,
which is uplifting even as you begin to face up to yourself. It's a jumping off point for a deeper self-discovery.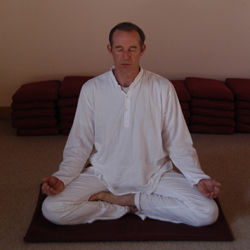 The focus of this inspiring retreat is on Awareness in Meditation. And it will help to answer some essential questions.
What is meditation?
What is its purpose?
How do we practise it properly?
How do we maintain our meditation practice
What are the benefits that meditation can accrue for us in daily life?

This course is suitable:
For all sincere students, seekers, and spiritual adventurers.
To develop and extend your regular meditation practice of finding the answers within the self.
Each meditation experience is unique with the potential to go deeper each time.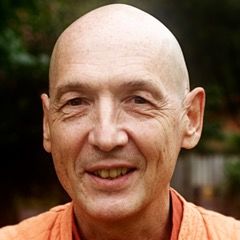 Swami Anandakumar teaches with a wisdom, authenticity and generosity of spirit born
out of over 35 years of practicing yoga and meditation.
He encourages, inspires and gently guides you.
With his warm down-to-earth manner, he makes the mystery of meditation clear
and accessible. There comes a time when you realize that what you have been
looking for doesn't in fact lie in the places you've been looking.
The mind can be tricky. It will present distractions and diversions along the way.
With well-timed, intuitive guidance Sw. Anandakumar can skillfully help you navigate
these detours bringing you back to connection with awareness so your practice continues to deepen.
Visit Sw. Anandakumar's Blog site

Some thoughts from a few who have something to say about their own experience
amazing, highly recommended
very rarely do we have the opportunity to find a way to be comfortable with everything that occurs within us
this was such an opportunity; to sit and go beyond our constructed beliefs to a light deep within
up for a challenge? looking to move forward in your life? then go to this retreat and see what happens
if you seek the truth … seek out this course
it will change your life if you let it
exceeded all expectation - absolutely brilliant
set me on the right direction after years of procrastinating
a life-changing experience in a beautiful setting
great teacher. great venue
Sw. Anandakumar is an excellent master of the mind - very perceptive - funny - so does not intimidate
Sw. Anandakumar is an inspirational teacher. there is simplicity and clarity in his instruction