Sw. Ahimsa and her work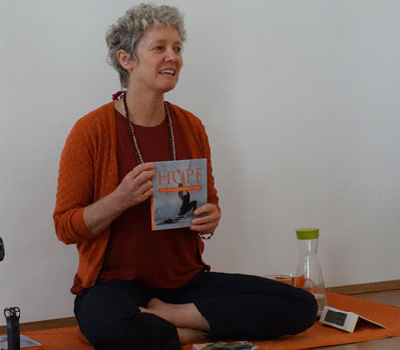 Ahimsa (Helen Cushing) lives in Hobart. She is the founder of South Hobart Yoga & Meditation and Life Beyond Trauma. Prior to teaching yoga Ahimsa had a career in media and writing.
Ahimsa has been teaching yoga to war veterans and others with PTSD since 2004. She tours internationally, presenting workshops and retreats on yoga for recovery from stress and trauma. Her award-winning film, Heroes of Peace, tells the story of the war veterans yoga group she teaches. Ahimsa is the author of a unique book on the subject, Hope: How Yoga Heals the Scars of Trauma.

What is post-traumatic stress?
Following deep traumas, the nervous system can be 'stuck' in the stress response that was activated by the trauma. A range of disturbing, uncontrollable symptoms develop making it difficult to function normally. Outbursts of rage, insomnia, hypervigilance, emotional numbing, flashbacks, depression and anxiety are just a few of the debilitating effects. Avoiding triggers causes isolation, self-medication with alcohol and drugs is common and the breakdown of family, work and social structures mean that life can fall apart. Suicide may seem like the only way out.

Testimonials
"After more than 30 years of suffering with complex trauma, yoga has worked for me in a truly wholistic way. It has healed me on all levels from physical pain and illness to the spiritual wounding of abuse. I now sleep through the night without any medication which happened as a side effect of becoming calmer overall. I don't get triggered anything like I used to because the 'sore spots' of trauma are becoming neutralised and resolved – sometimes consciously, sometimes I just realise it has gone away without me noticing.
Daily practice is essential. Staying committed to doing my routine every day has been good discipline and a daily commitment to myself, my health and my future. It makes me feel good when I'm doing it and has drastically improved my quality of life overall."
Sara, family abuse survivor.

"After 10 years of counselling and increasing doses of medication I was finding little relief from my symptoms so I was advised to try yoga and meditation. I have found peace and calm for the first time in decades! I am a living example that through trauma-sensitive yoga there can be a full recovery from trauma and that the power of recovery lives inside every one of us."
Emma, terrorism survivor

"I was apprehensive at first, but because it had been recommended by my doctor and psychologist I stuck to it. Once I started yoga with Ahimsa I felt that everyone was there to heal and feel the benefits. It helped greatly with my PTSD, depression and anxiety, which meant I could control my feelings better, cope with the day easier and control my then out of control alcohol abuse. I use the tools of yoga every day, and it's the best addiction I know for a happier life."
Australian war veteran

"Yoga helps me with relaxation. It improves my breathing and I sleep better with less nightmares. It's important for my anger management and reduces flashbacks. My relationships have improved as now I can talk about personal problems."
Vietnam war veteran