Rocklyn Ashram: Explores the Past & What the Future Holds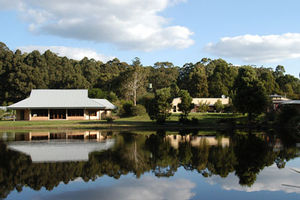 The Yoga Association of Victoria, Rocklyn Ashram, was formed in 1996. The purpose and the vision is to provide, traditional yoga practices, Satyananda Yoga, support for yoga teachers, a nurturing ashram environment and yoga in the community.
These primary goals of the Yoga Association of Victoria, in conjunction with Rocklyn Ashram continue to be a way of life that fosters self-awareness, self-understanding, and applying the traditional concepts of yoga in an authentic and undiluted way. Rocklyn Ashram provides an environment for personal reflection, and dynamic participation in a life inspired and guided by the wisdom tradition of yoga.
In gathering feedback for a renewed vision for the Rocklyn Ashram it became clear that the community wants the more traditional aspects of ashram, Satyananda Yoga practices and yogic lifestyle to remain central, entwined with the existing focus on "living consciously", a concept central to programs at Rocklyn Ashram for the last eleven years.
Aside from practical yoga classes, yoga nidra and meditations that are a standard part of each day, other yoga practices supporting a dynamic lifestyle include kirtan & bhajans (group singing), seva (service in ashram life and community), havan (physical fire, and mantra chanting) philosophy, to advanced practices. All practices are central to ashram life. Together these practices create upliftment, support and personal transformation. Each day is built around these ageless yet contemporary aspects of yogic lifestyle, drawing out one's inherent positivity which cumulatively builds resilience and inner strength.
In todays society the ashram is a unique place offering a fuller appreciation of the true essence of yoga for inner reflection and inner evolution that are not immediately available in other forms of living. Inner attitude and the outer expression of life is transformed systematically, allowing one to become a more balanced, energetic, and creative person, capable of managing life's complexities and taking responsibility for one's own destiny.
Historical Perspective
Straightforward physical practices, which can be added on to one's existing lifestyle and identity, are very appealing. In the mid to late 70's as people delved deeper into the philosophy of yoga, seeking to harmonize and integrate their yoga practice as a way of life, the search for a closer understanding of the cultural roots and tradition of yoga were explored.
People weren't so much looking for something to adapt to their existing identity and culture, as much as they were looking to replace their identity and culture with something more meaningful and entirely new. This openness prompted many to explore a yogic lifestyle that was counter cultural to mainstream Australian life styles.
During the 1980s there was a hierarchal leadership structure controlled by Swami Akhandananda resulting in mismanagement in disseminating the traditional values and wisdom of yoga. It wasn't just that he abused his position of power, and the children in his care, it was that he took unbridled authority and demanded total trust. This allowed the establishment of a culture contrary to the principles and purpose of yoga.
Subsequently, in the 1990s, Satyananda Yoga in Australia underwent a complete restructuring to remove the remnants of a culture that did not realize or achieve its highest potential. Such authoritarian teachers no longer exist in Australia.
In the last twenty (20) years, yoga teachers and sannyasins have worked collaboratively together on taking responsibility and shared authority in decision making, setting rigorous standards including teacher training and ethics, and in establishing training programs to meet standards.
Current History
Recently, with the announcement of Case Study 21 of the Royal Commission into Institutional Responses to Child Sexual Abuse, the Yoga Association of Victoria remains committed to implementing necessary improvements and will pay close attention to any recommendations and findings arising from their conclusions.
The Yoga Association of Victoria, in conjunction with the Rocklyn Ashram will remain committed to the preservation and propagating of yoga that has been entrusted into our care. We accept the responsibility and the importance of maintaining current social education, a high level of integrity, transparency and vigilance in management to ensure protection for visitors, students and all residents living in the ashram environment.
It is very difficult for any institution to continuously embody the essence of yoga. Even in an individual, this is a lifetime's hard work, but it is possible for the Yoga Association of Victoria, Rocklyn Ashram to support a vital and creative sangha by providing a stable place in which one's inner spiritual journey can continue without the immediate pressures of worldly life.
15/11/2015