Karma Yoga Volunteer Option
Welcome to a Karma Yoga day at the Ashram
Arrive: 8.30am
Departure:5.00pm or welcome to join the evening program
| | |
| --- | --- |
| 9 - 11.00am | Karma Yoga |
| 11.00 | Cup of Tea |
| 11.30 | Yoga Nidra - relaxation |
| 12.00 | Lunch |
| 12.30 | Lunch Clean Up |
| 2.00 | Cup of Tea |
| 2.30 - 4.45 | Karma Yoga |
Welcome to stay for the following:

5.00pm
5.30
Monday
Meditation
Havan & Mantra Chanting
6.30
Dinner


5.30
6.00

Tues, Wed, Thur
Meditation
Dinner
7.30
Evening Program

Online Karma Yoga Day enrolment form
Or please either call or email us if you would like more information. The day includes: karma yoga, yoga nidra - relaxation, lunch, meditation and evening program.
No fees - please respect the time of arrival and departure for this option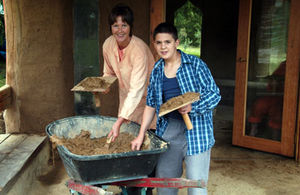 Head, Heart & Hands fully express themselves in the aspect of Karma Yoga. The practice of Karma Yoga is an opportunity to offer your creative skills, joy and inspiration as a yogic practice of mindful awareness to maintain the vision of yoga and to provide a place of learning and sustainability for the community and society.
Seva is a natural and harmonious expression of the self.
Swami Niranjan Saraswati
A karma yoga day is an opportunity to be part of the shared work activities and the community lifestyle and daily ashram rhythm and routine.
In addition to involvement in the karma yoga projects, yoga nidra and lunch are part of the day, as well as morning and afternoon tea.
The Yoga Shop and Reception are open for you to browse in and ask about courses and retreats offered at the Ashram.
Your booking is necessary and appreciated the day before your proposed visit.