General Information

Please bring your own bedding, yoga mat and blanket/shawl
Course Times
You are welcome to arrive between 2pm & 4.30pm to relax and settle into your room before Devi Chanting at 5.30pm and dinner at 6.30pm.
Generally weekend retreats begin on Friday with dinner at 6.00pm and conclude after lunch on the last day of the course.
Reception Hours
9.00am - 5.00pm daily.
If you are arriving later than 5.00pm please make arrangements when booking and inform us of any changes.
We are not able accept arrivals after 8pm without prior arrangements.
Daily Routine
Enjoy an early morning yoga posture class and vedic chanting followed by breakfast.
For all: Share in the karma yoga lifestyle activities (yoga of focused attention) in the morning between 8.30am to 9.00am.
Karma Yoga - lifestyle activities with awareness are allocated according to your program between 9.30 - 11.30am & 2.30 - 4.45pm.
The lifestyle activities of the centre can include:
gardening, picking vegetables and helping to cook a vegetarian lunch or
making bread or goodies,
office work,
​maintenance,
sustainable building projects, environmental developments,
library and other interesting creative projects and aspects of the ashram.
Relax with Yoga Nidra (guided deep relaxation) at 12.00pm followed by a healthy and tasty lunch.
According to the retreat you have chosen time in the afternoon is allocated to personal rest, relaxation and reflection, walking or bike riding on the forest tracks, reading from the library, or using any of the (heated in winter) practice rooms for personal practices.
To gain the best benefits from your retreat it is recommended you spend your time in the Ashram's peaceful and natural environment.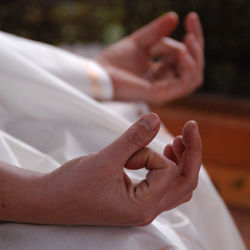 Yoga Related programs
Asana, Pranayama,
Yoga Nidra Relaxation,
Meditation,
Vedic Chanting,
Havan (fire ceremony with chanting),
Group discussions and satsang by senior teachers.
During weekend retreats additional yoga sessions are held in the mid morning and mid afternoon.
---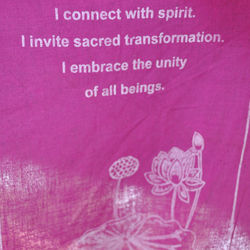 Enrolment
Please book by using the electronic enrolment form along with full payment.
If you prefer not to use your payment details on the enrolment form please make your payment by phoning the ashram or by direct deposit.
Meals, private room, shared facilities accommodation, classes and GST, where applicable, are included in the fees.
---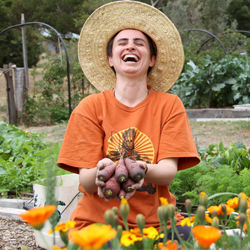 Meals
We serve balanced vegetarian food, with lots of grains and fresh vegetables mostly from our ashram organic garden or sourced from organic local farmers in the neighbourhood.
Fresh fruits are provided at morning and afternoon tea.
Dairy products such as cheese, butter, milk and yoghurt are served separately.
Gluten free bread and pasta is available.
Please Note: Fructose intolerant meals of steamed vegetables and rice can be requested with a surcharge of $5 per day.
The Ashram is not able to provide low carb, paleo or fully raw vegan meals. Fresh salads are served.
Prior to your arrival please discuss your dietary needs with us. It is important to note your needs in the comment box included in the enrolment form.
If we are not able to supply all or part of your special dietary needs please be prepared to assist by bringing your own requirements with you.
On arrival please ask at reception where your personal food can be stored, as no food is to be stored in the accommodation.
Please inform us prior to your arrival of any medical considerations we may need to know about.
---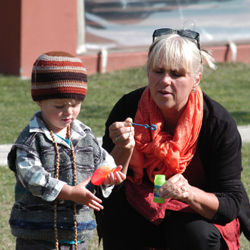 Accommodation Options
Fees include: standard accommodation, vegetarian food and yoga classes as per the website daily timetable.
Single and twin ensuites, 3 to 4 share with or without ensuite and camping have a separate fee structure.
Private rooms are limited. Please book early.
Respecting others:
Snorers and anyone using a machine for sleep apnoea please reserve a single room, bring a tent or bring an understanding room mate for a twin share.
If someone is relocated due to your snoring, you will be charged a single room fee.
---
Families and Children
Children are welcome and are to be accompanied by a parent or guardian who takes full responsibility for their care whilst in the ashram. (Please note the Ashram does not provide child minding facilities)
If you are visiting with your baby and using disposal nappies, please take them home with you as the Ashram is not able to environmentally dispose of them.
Children must be accommodated with a parent or guardian. Children are not to left in their room unattended at any time.
In line with our policies it is mandatory to take a private room with your child or children. (The definition of a child as defined in the United Nations Convention on the Rights of the Child is anyone under the age of 18yrs)
---
Dress Code
The Ashram is a place of personal retreat and inner reflection from everyday life. We request that you dress appropriately. For all genders this means modest neckline, covering midrifts and wearing attire no shorter than mid thigh.
We also recommend bringing walking shoes and slip on shoes as you will be required to take off your shoes before entering indoor areas.
---
Rocklyn Yoga Ashram promotes qualities of self responsibility and self awareness. When visiting the ashram we require people with mental health conditions to have a sufficient level of self care that allows them to manage their behaviours. If assistance with mental health issues is needed during your stay at the ashram, we require our visitors to seek professional mental health support outside the ashram. While the traditional yoga practices we offer support wholistic health, our yoga teachers are not mental health therapists.
Self- responsibility is about checking yourself for behaviours that may make other visitors uncomfortable.
If you display behaviours that do this, you should try to identify and modify these behaviours. Learn how to reduce your own stress, so that moods are not projected onto others.
Practice conscious communication and avoid unnecessary offloading, allowing the practices of the ashram to facilitate internal healing.
---

Facilities
Meditation rooms, forest walking and bike riding tracks, yogic library, reading rooms, internet access only for absolutely essential usage, well stocked shop with yogic books and yoga accessories. The ashram environment provides opportunity for 'digital detox'.
All practice rooms, reading rooms and accommodation rooms are heated during winter.
Mobile Phones
Rocklyn is a declared mobile free zone in all residential and sitting areas, however they can be used in the car park.
Note that there is no Vodafone network coverage.
Drugs, Alcohol and Cigarettes
No alcohol or illegal drugs are permitted on the premises or arriving or returning to the ashram under the influence of drugs or alcohol.
Smokers are requested to smoke outside the grounds and be absolutely responsible for the proper disposal of cigarette butts and packets.
Plastic free environment
Please respect this request.
All plastic containers or food wrappings are to be taken home for disposal.