Subji Recipe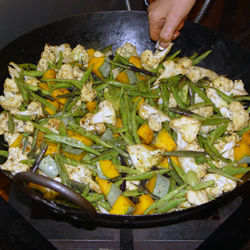 Ingredients
Level spoon measurements.
1kg potatoes diced
1/2 kg carrots cut diagonally
300gm cauliflower flowerettes
Greens of your choice
1/2 tsp garlic finely chopped
1/2 tsp ginger finely chopped
1 tsp black mustard seeds
1 tsp black cumin seeds
1/2 tsp cumin powder
1 tsp curry powder
8 curry leaves
2 Tbs oil or ghee
Method
Heat oil or ghee in a saucepan. Add mustard and black cumin seeds and fry till mustard seeds pop.
Add curry leaves and gently fry. Then, lightly fry ginger and garlic and add powdered spices and carefully cook on low heat for 1/2 minute.
Stir in potatoes and carrots and cook on low heat for 5 minutes.
Add 2 cups water, salt to taste, and cook for further 5 minutes,on medium heat then add cauliflower and greens.
Continue to cook on low heat until vegetables are cooked, yet still retain their shape.
Mix through finely chopped coriander as an option.
Enjoy!
Serves 4-6 people.