Weekend Retreats - general information
Arrival & Departure
1 night Sat 8.45am to Sun 2pm
2 nights Fri between 2pm & 5pm to Sun 2pm
Fees include all food, standard accommodation and course yoga & theory classes
Mobile Free Zones: all residential, eating & sitting areas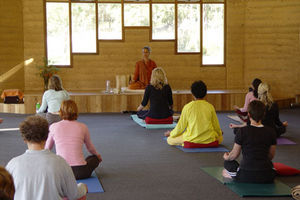 Each weekend follows a yoga program of yoga postures, pranayama - breathing techniques, relaxation, meditation, plus discussion on the topic and applied yogic philosophy chosen for the weekend.
A weekend retreat allows a window of time to reflect, understand yoga to be more than just postures and come away with practical and useful tools for achieving a simple daily practice.
Please make your booking at least 2 days prior to the commencement of the retreat.
Private and twin share accommodation has additional costs.
Practical Details: What to bring, Fees, Directions etc