January: Yoga, Meditation, Relaxation Partial Silent Retreat - Sw. Atmamuktananda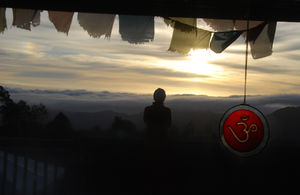 17 - 21 Jan $560 Book Here Early Bird 10 Jan
17 - 21 Jan $600 Book Here
With systematic practice of noble silence, you will be able to give a new orientation to your feelings.
Calm the bubbling emotions, instincts and impulses through noble silence.
Swami Sivananda
The seclusion of the ashram situated on the edge of the Wombat State Forest is a perfect silent retreat environment.
A short partial silent retreat offers precious time and space, not always available in other forms of living, for quieter and deeper self-reflection and self-enquiry.
The practice of noble silence coupled with meditation is an opportunity to become still, to consciously turn the mind inwardness, to experience enhanced connection revealing the inner quieter self.
By committing to a partial silent retreat with the practice of self-awareness and remaining the witness, the mind itself naturally becomes less busy, more focused and clear without effort, revealing deeper understanding and inner contentment.
The retreat includes:
yoga asanas & pranayama become the basis for stillness
pranayama practices to enhance meditation and inner silence
pratyahara - turning the attention inwards
Yoga Nidra – deep relaxation for body/mind/emotions
review of the day
practical yoga psychology on the 3 gunas - states of existence
sitting meditation: Antar Mouna – attitude of a witness to cultivate equanimity and inner silence
walking meditation using the senses to be present
encouraged to keep a personal diary (optional)