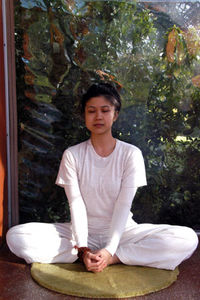 01 - 29 Oct $880 Enrol
01 - 29 Oct $800 Enrol (Early Bird - fully enrolled by 25 September)
An ideal 1 month retreat only available at Rocklyn Ashram for yoga studies students, yoga teachers and sincere yoga practitioners to experience an authentic ashram life fully imbibing the traditional yogic teachings for self-understanding and transformation.

The purpose of Yoga & Ashram Life for Self Transformation: to live in the ashram for some time offers you the scope for enlarging your vision about yourself and about life. You begin to understand yourself better, which in itself is a great achievement because it is our misunderstanding of ourselves that leads us to disharmony.